7 benefícios de ter amigos, segundo a ciência
By Leila Maria - setembro 18, 2017
Os amigos são um dos grandes suportes da nossa vida. Quem tem a sorte de tê-los sabe como é.

Poder contar com alguém e saber que essa pessoa também pode contar com você alivia os problemas

e traz emoção e intensidade à vida. Mas não é só isso. A ciência também já demonstrou que a amizade traz outros benefícios importantes.
Os bons amigos não precisam ser perfeitos, ou estar prontos para atender todas as suas necessidades. É suficiente que o aceitem, que se interessem pelo que acontece com você e estejam dispostos a ouvi-lo.

A amizade é um presente simples e grandioso ao mesmo tempo.
"Creio que a amizade é mais difícil e mais rara do que o amor. Por isso, é preciso preservá-la a todo custo." – Alberto Moravia –
Diversos estudos têm demonstrado que contar com bons amigos melhora a nossa saúde, tanto física quanto

mental.

Para que você conheça com maiores detalhe essas contribuições, falaremos sobre 7 benefícios proporcionados pela amizade.
1. Os amigos ajudam a reduzir o estresse
O estresse crônico tem muitas causas. No entanto, uma das causas mais comuns é a dificuldade para superar adequadamente o estresse diário. Ele ocorre quando há uma tensão entre a realidade como ela é e os recursos disponíveis que temos para aceitá-la e nos adaptarmos a ela.
Os amigos nos ajudam a reduzir essa tensão.
O simples fato de ter um espaço de comunicação desinteressado reduz o estresse.
O sentimento de apoio prestado pelos amigos reduz a ansiedade. Então, eles nos ajudam a gerenciar o estresse e aliviam as suas consequências.
2. Contribuem para melhorar a saúde
De acordo com a pesquisa publicada na revista Proceedings of the National Academy of Sciences,

quem tem bons amigos tem uma saúde melhor.

Isto não é surpreendente se levarmos em conta que a amizade aumenta a qualidade de vida.
Quando existe alguém que se preocupa com você sinceramente, você aumenta o nível de autocuidado. Pelo contrário, o sentimento de solidão muitas vezes nos leva ao abandono. Se você acredita que ninguém se importa com você, será mais difícil cuidar de si mesmo. E isso acaba afetando a sua saúde.
3. Quem tem amigos sente menos dor
A revista Psychosomatic Medicine publicou um estudo sobre a relação entre a dor física e o afeto. Foi comprovado que

aqueles que convivem com pessoas afetuosas percebem a dor com menos intensidade.
O mesmo se aplica no caso oposto.

As pessoas solitárias tendem a experimentar a dor física de uma forma mais grave.

Lembre-se de que toda dor física traz sofrimento emocional, mas quem tem amigos também tem uma melhor disposição emocional, e isso faz com que a dor física seja reduzida.
4. O coração se fortalece
Um estudo realizado na Universidade de Duke (EUA), apresentou evidências de que

aqueles que mantêm fortes laços de amizades com outras pessoas gozam de uma melhor saúde cardiovascular.

De fato, nessa investigação a amizade é comparada com o exercício físico, e ambos têm efeitos positivos sobre o coração.
Este estudo foi baseado em um grupo de 1.000 pessoas. Todos eles tinham alguma doença cardiovascular. Após cinco anos, metade das pessoas que não tinham amigos havia falecido, e 85% dos que tinham amigos haviam melhorado.
5. Eles nos ajudam a prolongar a vida
Em 2010, um grupo de pesquisadores do Reino Unido fez uma compilação de 148 estudos sobre a relação entre os vínculos afetivos e a mortalidade. Eles queriam comparar os diferentes resultados dessas investigações. No total, a análise incluiu 300 mil pessoas.
Os resultados foram conclusivos.

Em todos os estudos realizados até aquele momento havia uma clara relação entre solidão e morte

. Era evidente que aqueles que tinham amigos tinham uma vida mais longa. A amizade tem efeitos indiscutíveis neste aspecto.
6. Contribuem para a prevenção da obesidade
Mesmo que pareça inacreditável, a ciência ainda não conseguiu explicar a obesidade. Embora se saiba que os fatores genéticos, metabólicos e psicológicos estão envolvidos, ainda não foram estabelecidas as causas reais para alguns casos. Na verdade,

algumas teorias sustentam que o ganho de peso é uma forma de defesa.

Ele aumenta quando a pessoa se sente vulnerável.
Uma pesquisa publicada na revista Annals of Behavioral Medicine tenta esclarecer este ponto. Ela indica que

a amizade é um fator de compensação emocional, tanto quanto a comida.

Quem tem amigos não tem necessidade de comer compulsivamente.
7. Eles ajudam a aumentar a acuidade mental
A interação humana é um fator que estimula o cérebro. O simples fato de manter uma conversa com alguém ou pensar em uma realidade diferente da sua energiza a atividade cerebral. Por outro lado, quem permanece isolado pode perder as capacidades cognitivas.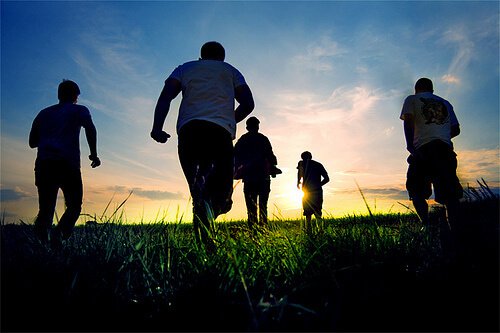 Para as pessoas que têm algum tipo de doença mental, isso é mais problemático

.

Na verdade, um dos gatilhos da doença é precisamente o isolamento, e um dos fatores que mais contribui para a cura é a amizade.
Não tenha dúvida: ter um amigo é ter um tesouro.

Mais do que "conseguir" amigos, a nossa principal tarefa é aprendermos a ser bons amigos dos outros.

O restante vem por acréscimo. Como vimos, os benefícios são imensos. Além disso, os amigos trazem para a nossa vida uma dose extra de ternura, que é o melhor antídoto contra a amargura.